John Prine was a compelling, combative, heart-in-the-right-place American singer-songwriter who died two years ago next Thursday at the age of 73. He had successfully fought two cancers but succumbed to the wretched Covid. This is how I recorded his passing at Salut! Live.
On Thursday (April 7) the annversary of his death, the Irish Cultural Centre in Hammersmith, west London - just around the corner from the tube and bus station so easily accessible - presents a celebration of John's life ad music with help from guests including John's own son, Tommy, friends and musicians he met on the road or befriended.
Gerry Logue, from the Irish centre, reminds me of the event and invites me. But I am in France and the invitation doesn't extend to tickets home. I don't do this often but unsettled windy weather seems to be playing havoc with the wifi so I will take advantage of limited connection  and let Gerry's description of the evening, and his introduction to those taking part, speak for itself ...
Image: Ron Baker. CC BY 3.0, https://commons.wikimedia.org/w/index.php?curid=5685417
'Blow Up Your TV!' Remembering John Prine
By Friends & Fans Of John Prine For Fans & Friends Of John Prine
To celebrate the life and music of legendary American singer-songwriter John Prine, the Irish Cultural Centre, Hammersmith is honoured to host a special evening of music, songs and stories on Thursday 7th April 2022 – the second anniversary of John's passing. 
Performances on the evening will be led by John Prine's family, friends and some of the musicians he toured and recorded with over the years.
Featuring will be Tanya McCole from Ardara in Donegal, who toured as a special guest for many John Prine concerts; John's longtime friend Paul Mulligan – a singer-songwriter from Kinvara, Co. Galway; former Altan fiddle and accordion players, Ciaran Tourish and Dermot Byrne; John's son, the singer-songwriter, Tommy Prine.
There will also be a special guest appearance from Ralph McTell.
The ICC is an intimate venue, so a limited number of tickets are available. We invite you to 'blow up your TV & throw away your papers!'
Book your tickets now to avoid disappointment!
Thu 07 April 2022
7.30pm
Tickets: £25 / £22.50
Tanya McCole
Tanya McCole grew up in the unique village that is Ardara, Co. Donegal, Ireland. Having moved to London in '94 she returned to Ireland and settled in Galway city. Her first band was the very popular Horny Devils. Tanya then joined the very successful Black Magic Big band and finally the fantastic Lewd Tunes. Tanya returned to Donegal in 2005 and has performed with many of Irelands leading artists, including Sharon Shannon, Mundy and Shane MacGowan to name a few. 2009 saw the release of her first album "Love, Hate & The Blues", which was was well received by audiences and radio stations alike. In 2018 Tanya went back to the studio with a fresh batch of songs and recorded "Because Of You". In stark contrast to "Love, Hate & The Blues", this new album is stripped back to reveal her uniquely distinctive voice and songwriting ability. That same year she fulfilled a lifelong dream of touring with Grammy award winner John Prine and toured with him again in February 2020. As an artist, Tanya McCole is one of the finest singer/songwriters on the Island of Ireland and beyond. Her songs touch the soul in such a way that means they will be enjoyed for many years to come.
"The world should know about Tanya McCole. I love her voice. She is authentic in every way – and a great road buddy too. Go Tanya, Go!" (John Prine, January 2019)
Hear Tanya McCole performing alongside John Prine, at Paradiso in Amsterdam in the summer of 2018: 
Paul Mulligan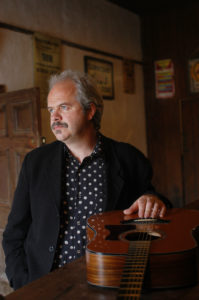 Paul Mulligan was born in Dublin and spent his formative years in Kells Co. Meath. He began his musical journey at the age of fourteen, as soon as he was able to play his first tentative chords on a borrowed plywood guitar.  Although influenced by such American songwriting giants as Dylan, Waits, and Prine, his own songs have a distinctly Irish identity.
In 1996 Paul moved to Kinvara, Co. Galway and soon after met John Prine, who was on holiday nearby.  John bought a cottage in Kinvara, and Paul and himself became close friends. Paul would sometimes travel with John, as his opening act, and/or guitar tech. They would often play together in Kinvara at Mary Greenes Pub.
"A talented and sensitive songwriter – Mulligan plays excellent acoustic guitar backed up by a bevy of capable musicians -The music inhabits the territory between Hank Williams, James Taylor and Christy Moore, painting an aural picture of personal angst without touching the hell realms of Damien Rice et al."(Keith Fitton – Rock and Reel Magazine)
"A beautifully understated collection of dreams gone by and the
usual unrest with everyday life. The songs are both penned and delivered with poise and
sensitivity, asking the right questions and tugging at the right heartstrings." (Mike Wilson – folking.com)
"Don't be fooled by the sweetness of the music, folks…this guy's lyrics have teeth!" (Frances Dutton – Blu FM, Australia)
Watch Paul Mulligan pay tribute to his close friend John Prine, in a touching video specially made for ICC Digital in 2021. It was produced by Sé Merry Doyle, in collaboration with the film director Jacqueline Heeley:
Dermot Byrne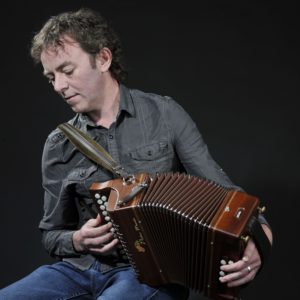 Dermot Byrne hails from the Inishowen peninsula of Co. Donegal, the most northerly part of Ireland, and has played accordion from the early age of four. A child prodigy, he learnt from some of the greatest Donegla fiddlers including Johnny Doherty, Con Cassidy, James Byrne, Tommy Peoples, Francie Mooney, The Campbell's and Dinny McLaughlin. He has recorded and performed with artists such as Dolly Parton, John Prine, Stephane Grappelli, Vince Gill, Phill Coulter, The Stunning, Salsa Celtica, Brendan Quinn, Frankie Lane, Mary Black, Tim O'Brien, Alison Krauss and Paul Brady.
Over his many years of playing, Dermot developed a unique style. His seemingly effortless playing, combined with great subtlety, and a faultless ear, makes him one of the great accordion players of his generation. As well as his mastery of the Donegal style and repertoire, Dermot can turn with ease to other styles and traditions such as French musette, or South American music. He guested on two Altan recordings "The Red Crow" and "Island Angel" before joining the band in 1994.
Ciaran Tourish
Best known as the nimble fiddler from Altan, Ciaran Tourish hails from Buncrana in East Co. Donegal and is one of the region's most celebrated musical exports – recognised by fellow musicians worldwide as an unusually gifted player. Although Ciaran started playing the tin whistle at an early age, he soon took up the fiddle under the guidance of local legendary fiddler and teacher, Dinny McLaughlin.
In addition to his mastery of the dance music tradition, Ciaran is now recognised as
one of Ireland's greatest contemporary fiddlers, as well as an integral member of one of Ireland's most beloved trad supergroups. Ciaran's quick ear, love of harmony and counterpoint have led to his talent being in demand as a valued collaborator on non-Altan and even non-Irish music projects with a wide range of musicians and singers including: Paul Brady, Matt Molloy, Mary Black, Maura O'Connell, Máirtín O'Connor, Dolores Keane, Dé Danann and American musicians such as Jerry Douglas and Tim O'Brien.
He released his first solo recording "Down the Line" in 2005 featuring guest musicians Arty McGlynn, Paul Brady, Maura O'Connell, Tim O'Brien, Alison Krauss and Jerry Douglas, among others.
Tommy Prine
Tommy Prine picked up a guitar at age 10 and started picking melodies. Though he has crafted his own unique sound over the years, he learned from observing one of the best. He is the son of the late legendary multi Grammy award-winning artist, John Prine.
The watermark of Tommy's sound comes from his unique finger-picking style combined with  soul-stirring songwriting. His songs pull inspiration from childhood adventures in the creek with his big brother, to losing his father at the beginning of the pandemic, falling in love, and everything in between.
Tommy is delighted to share news that his debut album is finished (not-yet-released) and is proud to follow his dad's example of bringing songs and smiles to music fans everywhere.
Listen to Tommy covering John Prine's 'Speed of the Sound of Loneliness':
Special Guest: Ralph McTell
Ralph McTell is an English singer-songwriter and acoustic guitar player who has been an influential figure on the UK folk music scene since the 1960s. McTell is best known for his song "Streets of London" (1969), which has been covered by over two hundred artists around the world.
McTell modelled his guitar style on American country blues guitar players of the early 20th century, including Blind Blake, Robert Johnson and Blind Willie McTell. These influences led a friend to suggest his professional surname. An accomplished performer on piano and harmonica as well as guitar, McTell issued his first album in 1968 and found acclaim on the folk circuit. He reached his greatest commercial success in 1974 when a new recording of "Streets of London" became a No. 2 hit on the UK Singles Chart. Other notable compositions include "From Clare to Here", a ballad about Irish emigration. In the 1980s, he wrote and played songs for two TV children's programmes, Alphabet Zoo, which also featured Nerys Hughes, followed by Tickle on the Tum, featuring Jaqui Reddin. He also recorded Keith Hopwood's and Malcolm Rowe's theme song to Cosgrove Hall's adaptation of The Wind in the Willows.
One of the great storytellers, Ralph McTell, is now celebrating more than 50 years on the road. Known for his virtuoso guitar style, he is primarily a prolific and gifted songwriter. With a style that invites you into a unique world, he weaves a narrative that is both significant and poignant.
In 2002 he was presented with the prestigious Lifetime Achievement Award at the BBC Radio 2 Folk Awards.
Listen to Ralph McTell singing his iconic 60s folk song, 'Streets of London':